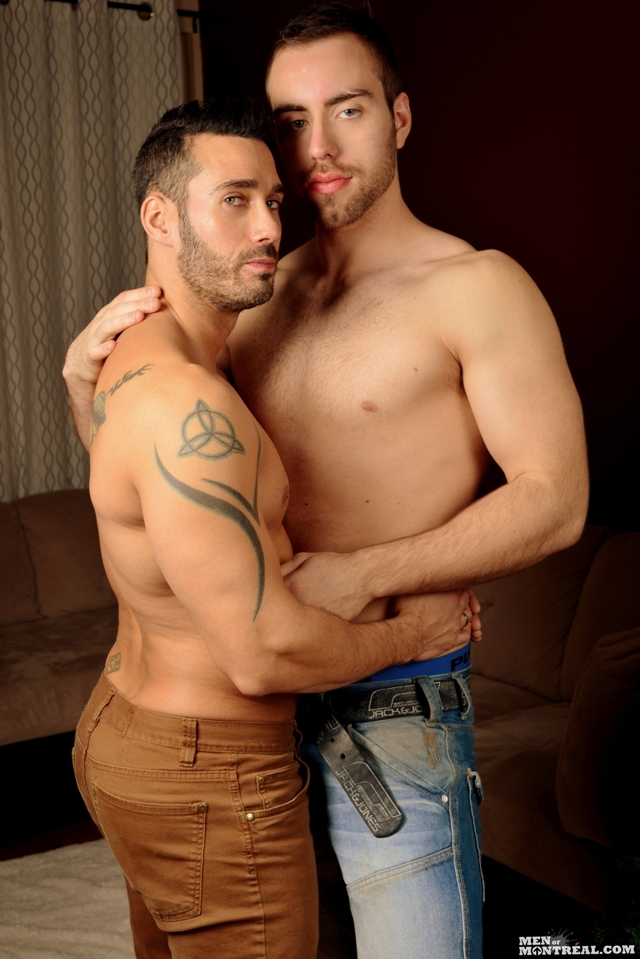 Alexy Tyler and Alec Leduc
Men of Montreal says: Wew! The Christmas tree lights were not the only things turned on during this shoot. Alexy Tyler and Alec Leduc were themselves quite lit up for this shoot. After Marko Lebeau, and his wiener dog Riley, introduced the guys, they gave us one intense fuck session. In fact, both guys admitted, after the shoot, to having a strong mutual attraction.
Both had seen each other on the set before and were excited about shooting together. We were shooting at Marko's place a couple of weeks before Christmas and the tree was out but not yet installed. So, Alec and Alexy took charge and started putting up some decorations. Alexy's Yuletide mood quickly gave way to his base sexual instincts as he pushed Alec onto the couch and they started to make out.
Alec was the first to go down on his partner's cock. This guy has come a long way since last summer when he first awkwardly gave a guy a blow job. He has become quite the skillful cocksucker since. Alexy was clearly enjoying this careful attention. But, being the good sport he is, he then volunteered to reciprocate with some pretty hot sucking and deep throat action.
The guys were so into it that we let them go at it with as few interruptions as possible. We did our best to work the cameras around their passionate love-making without interference or disruption. After riding Alec's cock in a reverse cowboy position, Alexy switched it up so his partner could fuck him from behind.
Loud and intense, Alexy came while his top man was fucking him lying on his back. Alexy then went back to sucking Alec to bring him quickly over the top. Alec's huge load landed in gushes on Alexy's face and in his hair. After sucking the remainder of Alec's load off his partner's cock, Alexy reached over and kissed Alec, letting him taste his own load.