First blowjob for new lovers Paul Wagner and Alexi Auclair
Next Door Buddies says: After a long trip the boys finally have some peace and quite in a room all by themselves. A final chance for Paul Wagner and Alexi Auclair to find out if their initial attraction will translate between the sheets. Now they find themselves across the room from each other, looking longingly although judging by the huge boner tenting Paul's underwear, Alexi is clearly on the homeward stretch. Paul starts to stroke his large erect dick through the fabric of his blue sports underwear all the while Alexi watches longingly.
The air is charged with that wonderful combination of hesitation and expectation. When Paul feels he's go his message across, he approaches Alexi lying on the bed. Without further hesitation he pulls down Alexi's underwear and places his lips firmly around Alexi's hardening dick, sucking it into the back of his throat. Alexi whole body is infused with a warmth that starts at his crotch and works its way quickly to his head, he is overcome.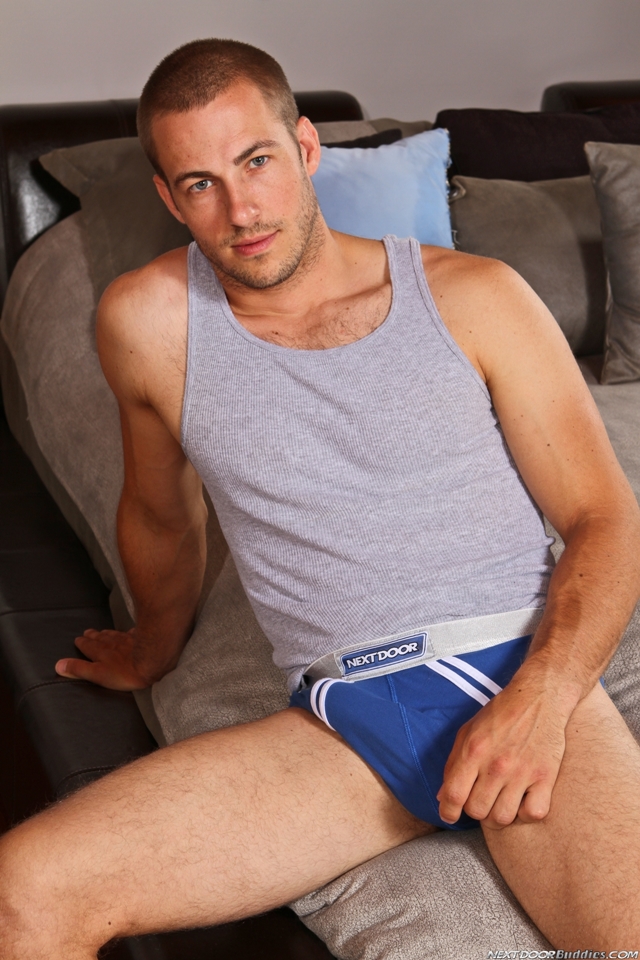 Relief that this encounter is finally about to happen, is happening. Paul bends over and attempts to kiss Alexi, but the unfamiliarity of this first time causes Alexi to involuntarily pull slightly away. Paul senses this subtle reaction from him, and draws his fire, at least for a moment. Then he tries again and Alexi reciprocates with a hard wet kiss. Soon Alexi is standing over Paul, probing his fat, throbbing cock into Paul's willing mouth.
Paul lets his tongue flick over the tip of Alexi's thick dick as it slides between his lips and deep into his throat. He gags a little but silently opens his mouth wider allowing Alexi to slide as far in as he can, right up to his balls, which bounce off his chin in rhythm with the gentle mouth fucking motion. As he dips his legs rhythmically, Paul follows suit by bobbing on the cock with an upward thrusting head motion.
Alexi can't believe how good this feels, he kind of hoped it would be but now he had the proof. The guys mess about with each other over and over, enjoying the feel of each other's bodies. They continue sucking and kissing for a long time gently jerking their own cocks and getting the juices flowing. Then without any sign each of them delivers their prize, coating each of them with their warm cum. This looks like the start of a deep friendship.