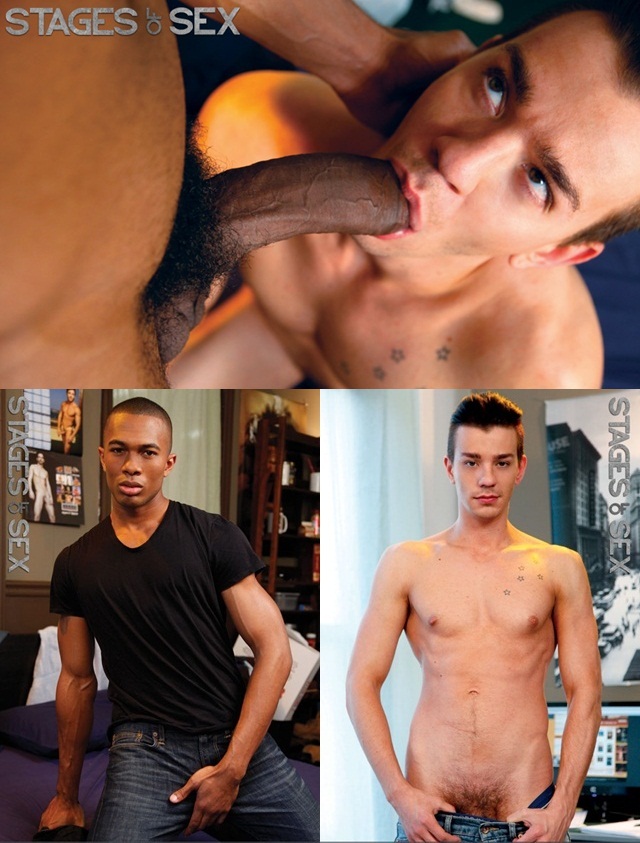 After a brief online hookup Seth invites student Sean over to his place. Handsome black hunk Sean Xavier with the number 1 haircut all over is super sexy head arrives. He likes the look of Seth with his lean white body and shaved hair on the sides but long on top. Instantly attracted they quickly get down to business stripping off their clothes as they sit on the bed. Seth gags as he tries to swallow all of Sean's monstrous black cock, not wanting to look a skinny white boy Seth imbibes his cock till it's locked at the back of his throat. Jerking his own cock all the while. With Sean holding Seth's head firmly to make sure he doesn't miss an inch as his cock disappears inside Seth's willing mouth.
Sean's gorgeously thick veiny dick pumped up with the blood rushing to his black helmet, face fucks Seth for all his might with his low hanging black balls flopping to and fro as he thrusts .
Now on top, Sean's ripped body is on full show, so lean that all of his ab muscles ripple with intensity as he pumps and Seth blows him from below.
Sean's shaved balls and hairy bush are a treat for hairy bush lovers. They try first to fuck doggie style and after some moments of sheer hesitation as to how Seth will manage to take Sean's meaty member, we see Sean's beautiful black cock disappearing inside Seth's tight white butt. Seth moans and groans almost in agony grabbing his head in pain. Lying face down, Sean takes Seth's well lubed and now well stretched hole from above, with deep long thrusts of his awesome muscular body driving his dick deeper and deeper into Sean's red raw hole. Giving us a lovely shot of Sean's hot ass as he goes. Sean's dark, hair free, hole looks ripe for a good rimming. If only I was on hand to do the honours. They switch positions again and again not letting Seth's hole rest from the fucking ordeal. The fuck session grows to a climax when both Seth and Sean blow hot loads of young guy cum all over again and again. Seth is now fully initiated into the 'Once you go Black' camp. See more of Seth and Sean fucking at Lucas Entertainments.
See more of Seth and Sean fucking at Lucas Entertainments.