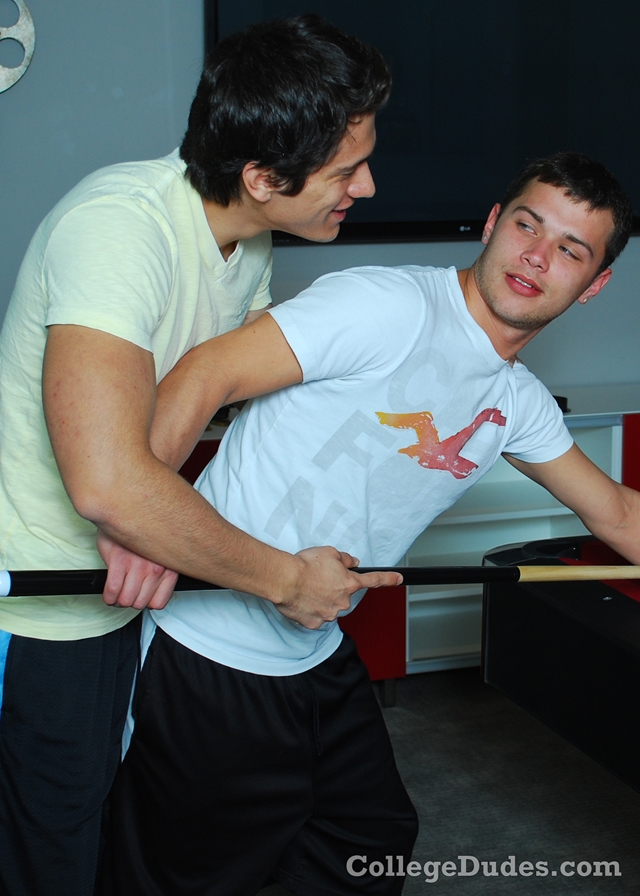 Straight guy Leo Serra pots more than a ball in the dorm with Kyle Short
College Dudes says: Hot straight college jocks Leo Serra and Kyle Short are having a laugh at the pool table in their college dorm. It's late and most of the other students have retired to their rooms, revising for their upcoming exams. Leo and Kyle are just trying to finish this game before calling it a night, however Kyle is not the most accomplished pool player, and the game is taking ages to finish. Leo being a friendly chap is coaching Kyle on his technique.
As Kyle bends over the table to retry another missed ball, Leo comes up grabs his cue and tries to direct his aim, but the sly look that Kyle shoots him, as the two of them are embracing turns Leo's emotions to overdrive. After all he has heard the rumors about Kyle's extra services and he has had his eye on Kyle's tight ass in those shorts each time he's made a foul shot. Now Leo thinks he can pot the ball and the boy at one and the same time.
After the shot, Leo remains with both arms wrapped loosely around Kyle, and that momentary glance backwards, seals Kyle's fate. Kyle immediately fires up and realizing he is more than attracted to Leo, lets Leo go in for the kill. Almost immediately without a single word, Kyle is on his knees fumbling at Leo's shorts and sexy Hollister underwear, managing to unleash his huge soft cock, taking it in his mouth in one swift move.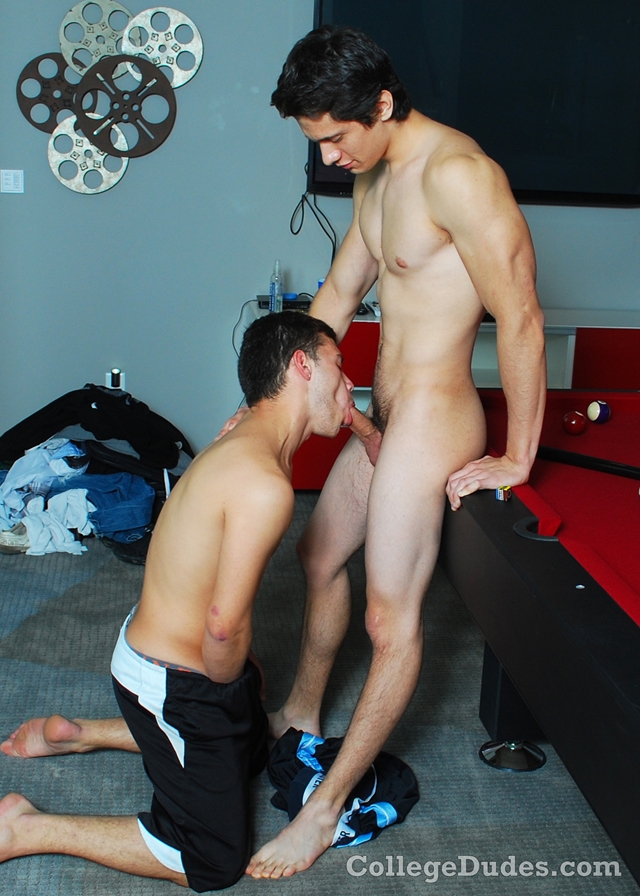 Almost out of astonishment, Leo starts to get very excited, Kyle's blowjob technique is way better than his current girlfriends and that thing he does with his tongue and lips is f**king awesome. In fact Kyle has been perfecting this technique, secretly around the dorm for months, although not one of the straight dudes has actually spilled the beans, although rumors abound. For sure they wanted to keep this little midnight pleasure to themselves, for fear of losing their top blowjob machine, or worse being thought of as gay.
Leo doesn't know it yet but Kyle has recently extended his little blowjob repertoire after a couple of the horny straight guys asked to plug his hole as well as his mouth. Kyle being the 'straight' but gay friendly type tried it and kind of liked it. After a few minutes of expert cock sucking Leo is overcome, his big dick is completely rock hard and plugging away at Kyle's willing mouth. Kyle even gets his dick sucked by a straight guy. Then Kyle breaks away, slowly bends over the pool table and beckons Leo to fire his own trick shot.
Leo without a moments thought is straight in there, sliding his super erect cock deep inside Kyle's tight boy hole. Boy does Kyle's tight ass hole feel good as Leo rhythmically pumps away each time deeper and deeper. Pretty soon Kyle moves to the floor, on hands and knees 'doggie style'. Leo ain't missing a trick, he takes Kyle's bubble butt in both hands and slices his cock between those smooth ass cheeks. Kyle's bubble butt dances about on the end of Leo's cock as he presses himself down harder onto Leo's love stick.
Kyle takes it like a champ then Leo turns Kyle over, and fucks him harder and longer until Kyle can manage to take the pummeling no more, busting a nice huge load. Leo immediately follows dumping a huge load of straight cum and the two end with a boy on boy kiss. Clearly the midnight blowjob caller has just won over another satisfied straight customer.