Cody Cummings and Lucas Knight
Cody Cummings says: Cody is laid out on the bed, legs spread and quietly fondling himself through his underwear. In the reflection of the mirror, one can make out the object of his intentions.
Lucas Knight stands above the bed slowly manipulating his cock, staring down at Cody's mostly exposed body and feeling the tingle in his pants begin to grow. Disrobing, he joins Cody at the foot of the bed, as the two of them stroke their cocks while the other one watches.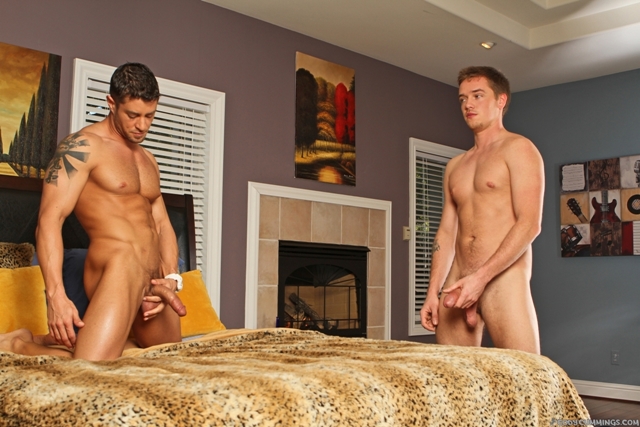 Not content to merely observe, Lucas moves closer to Cody, kissing down his body and taking his dick into his mouth. Cody pushes his cock down Lucas' throat as the head of his dick begins to pulsate. Lucas is bent over Cody, shoving a butt plug up his ass while Cody watches.
Cody then fucks Lucas' mouth as Lucas strokes his cock, exploding all over Lucas' face as Lucas unleashes his own massive cumshot in a sticky explosion all over his chest.