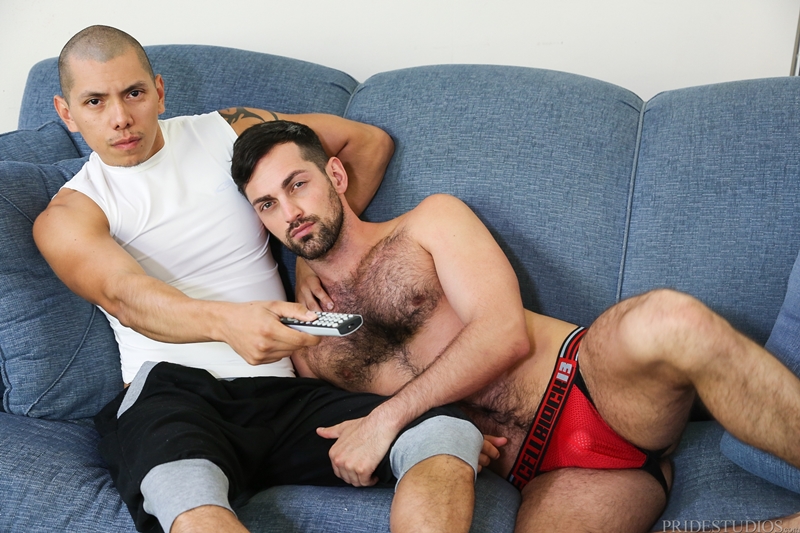 Men Over 30 says: It's the day of the big football game and Benjamin Bronx is watching his favorite soccer team on the TV. What he doesn't know is that Rich Kelly is in the bedroom putting on something erotic to grab Benjamin's attention.
Rich comes out and stands right in front of the TV and that pisses Benjamin off so much that he yells at Rich to get out of the way.
Rich lies next to him on the couch trying to cuddle up with him but he's just way to into the game to pay any attention to him. Rich is now pissed off and goes back into the room to change and now he is going to strike back with revenge for being ignored and yelled at.
Rich walks back in and grabs the extension cord yanking it out of the plug instantly turning the game off and Benjamin screams in anger at him but then Rich knocks the TV off the stand on to the ground shattering any dreams of watching the game later and he storms off with Benjamin chasing right behind him.
They get into a screaming match where it looks like Benjamin is going to kick Rich's ass but instead the anger boils over into a fuck fest. They focus all their anger and turn it into passionate love forgetting all that just happened.
Rich hasn't been laid in weeks and now he has Benjamin's face buried deep in his ass eating all he can get. Rich blows that uncut cock then gets it deep inside his tight ass as Benjamin takes his bubble butt to town smacking it and pumping it deep and hard.
The passion is intense and ends with creamy loads all over Rich's hairy manly chest.